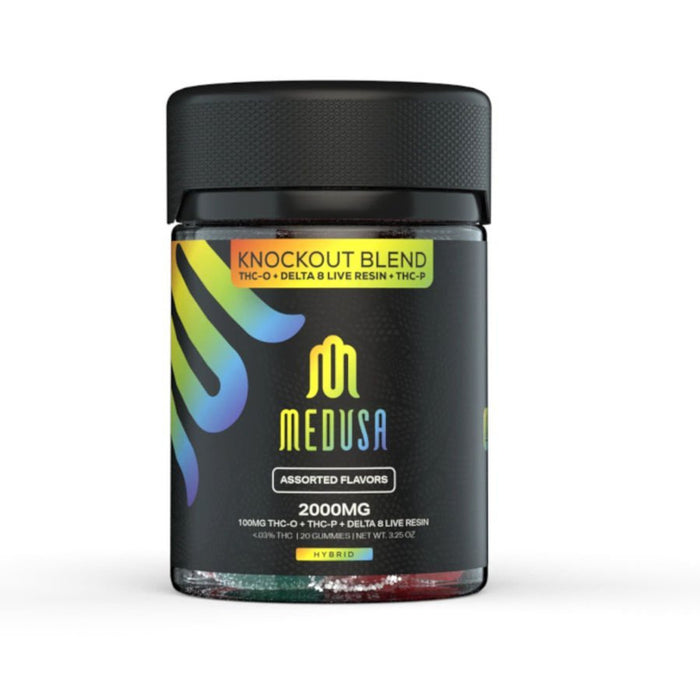 Medusa - KO Blend - Delta 8 - Gummies - Edibles - Assorted Flavors - 2000MG
Sold out
Original price
$24.99
-
Original price
$24.99
Why settle for just one gummy flavor when you can savor them all? The Medusa Knockout Blend Gummies pack a punch with a combination of hybrid 2000MG gummies, each with its unique natural terpene content, for a flavorful experience like no other. Indulge in Mamba Melon, Purple Grape, Sour Blue Razz, Berry Bite, Lemon Lime, and Tropical Fusion – tasty treats that produce a long-lasting, calming high. Don't be fooled by its delectable appearance; we advise taking one at a time, as these gummies can significantly impact you. So, why wait? Try out these treats today!
Medusa KO Blend Delta 8 Gummies Edibles Assorted Flavors Features:
Hybrid Strains
Contains Delta 8 Live Resin, THC-O*, and THC-P
20 Gummies Per Jar
U.S.-Grown Hemp 
*Orders from Florida will receive a Knockout Blend with Delta 10 instead of THC-O.