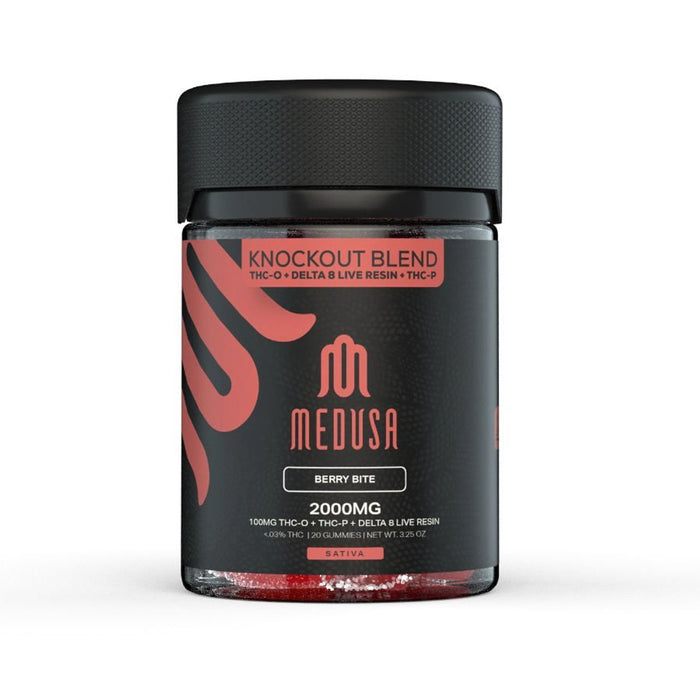 Medusa - KO Blend - Delta 8 - Gummies - Edibles - Berry Bite - 2000MG
Sold out
Original price
$24.99
-
Original price
$24.99
Inspired by the Strawberry Spider Bite strain, the sweet and sour strawberry-flavored Medusa KO Berry Bite gummy tastes like candy – and looks like it, too. Created using organic and Kosher ingredients as well as being tested by a third-party laboratory, you can kick back with a tasty snack and enjoy.
Delta 8 live resin, THC-O*, and THC-P are the main active ingredients included in the Medusa KO Gummies. The first ingredient, delta 8 live resin, effectively preserves the strength and potency of all the natural terpenes found in the hemp plant, producing a strong flavor. THC-O, or THC-O-acetate is more potent than delta 9 THC. THC-P cannabinoid is remarkably similar to delta 9 THC but it produces significantly stronger effects. 
Medusa KO Blend Delta 8 Gummies Edibles Berry Bite Features:
Sativa Strain
Includes Delta 8 Live Resin, THC-O*, and THC-P
20 Gummies Each Jar
Third-Party Lab Tested
*Florida orders receive a KO Blend with Delta 10 and not THC-O.