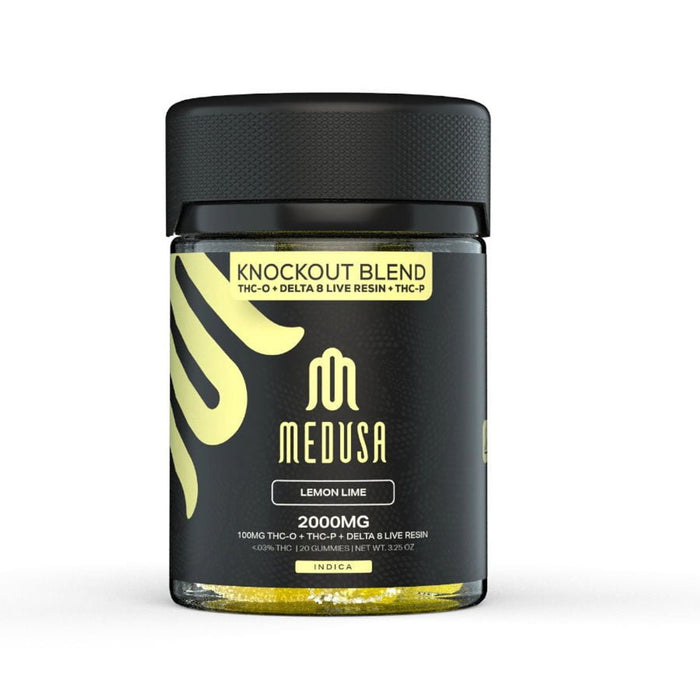 Medusa - KO Blend - Delta 8 - Gummies - Edibles - Lemon Lime - 2000MG
Sold out
Original price
$24.99
-
Original price
$24.99
The zesty Lemon Lime-flavored Medusa Knockout Blend Edible Gummies are sweet, sour, citrussy, and delicious. Pop one in your mouth and after an hour or so you will begin to ride the smooth, lasting high that tastes so good it could be candy. The cocktail of powerful cannabinoids provides an effective potency while retaining the same texture, tastiness, and bright color as your favorite store-bought gummies.
Delta 8 live resin, THC-O*, and THC-P are the three main active ingredients in the MD8 Knockout Gummies. Delta 8 live resin produces a very potent and strong flavor due to the ability to preserve the natural terpenes of the hemp plant. THC-O is an ingredient that is similar in structure and effect to delta 9 THC but is actually more powerful. Perhaps most notably, THC-P cannabinoid is up to 33 times stronger and more potent than delta 9 THC.
Medusa KO Blend Delta 8 Gummies Edibles Lemon Lime Features: 
Indica Strain
Ingredients Include: Delta 8 Live Resin, THC-O*, and THC-P
20 Gummies in Each Jar
Hemp Products U.S.-Grown
*Orders from Florida receive a KO Blend containing Delta 10 instead of THC-O.