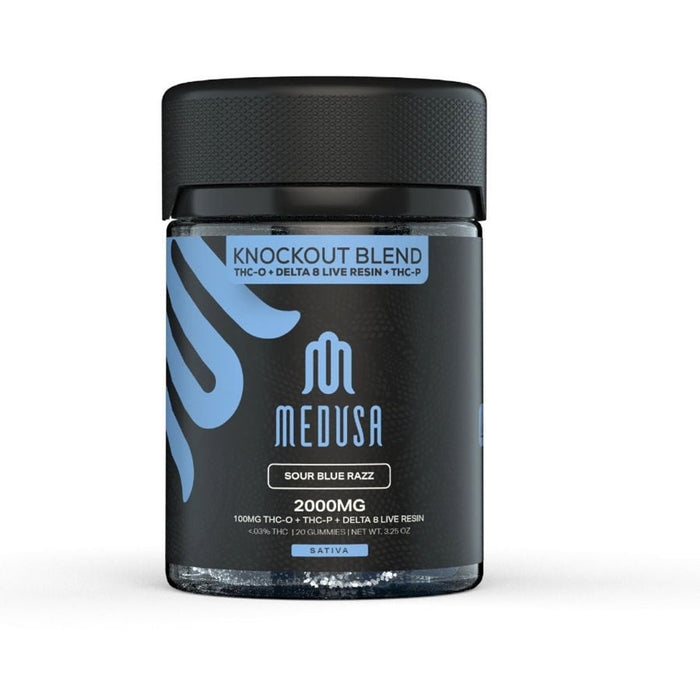 Medusa - KO Blend - Delta 8 - Gummies - Edibles - Sour Blue Razz - 2000MG
Sold out
Original price
$24.99
-
Original price
$24.99
Putting a twist on the popular Sour Blue Raspberry strain, the Medusa KO Delta 8 Gummies in the Sour Blue Razz flavor taste just like the tangy blue raspberry flavor we all know and love. Developed to produce a smooth high with perfect texture and taste, these yummy gummies will leave you satisfied with just one 2000MG gummy,
There are three main active ingredients included in the MD8 Knockout Gummies: Delta 8 live resin, THC-O*, and THC-P. The natural terpenes of the hemp plant are preserved in delta 8 live resin which makes this material extremely potent and flavorful. THC-O is more potent than delta 9 THC. THC-P cannabinoid is also similar to delta 9 THC in structure but produces significantly stronger effects.
Medusa KO Blend Delta 8 Gummies Edibles Sour Blue Razz Features:
Sativa Strain
Delta 8 Live Resin, THC-O*, and THC-P
20 Gummies/Jar
Hemp USA Grown
*Orders from Florida will receive a KO Blend containing Delta 10 instead of THC-O.