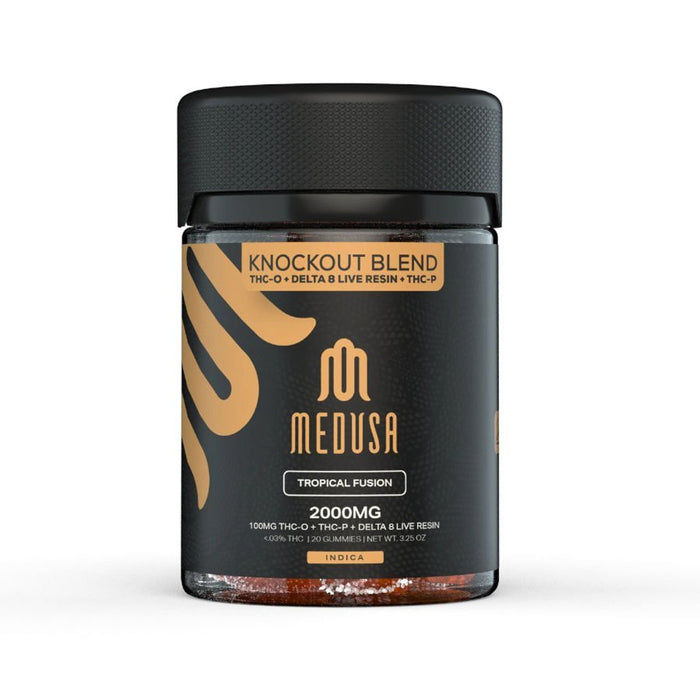 Medusa - KO Blend - Delta 8 - Gummies - Edibles - Tropical Fusion - 2000MG
Sold out
Original price
$24.99
-
Original price
$24.99
If you love the taste of the classic Tropical Fusion strain, you will love that the Medusa Tropical Fusion-flavored Knockout Delta 8 Gummies provide the exact juicy flavor. With hints of pineapple and mango and a smooth, enjoyable high, it will feel like you're on a tropical vacation after eating one 2000MG gummy.
The three active cannabinoid ingredients in these delicious Knockout Blend gummies include Delta 8 live resin, THC-O*, and THC-P. Delta 8 live resin preserves the natural terpenes of the hemp plant which retains a strong flavor and high potency. THC-O or THC-O-acetate is similar in structure and function to delta 9 THC but produces stronger effects. THC-P is similar to delta 9 THC but is up to 33 times stronger.
Medusa KO Blend Delta 8 Gummies Edibles Tropical Fusion Features:
Indica Strain
Delta 8 Live Resin, THC-O*, and THC-P Active Ingredients
20 Gummies Each Jar
Third-Party Lab Tested
*Florida orders will receive a Knockout Blend with Delta 10 and not THC-O.