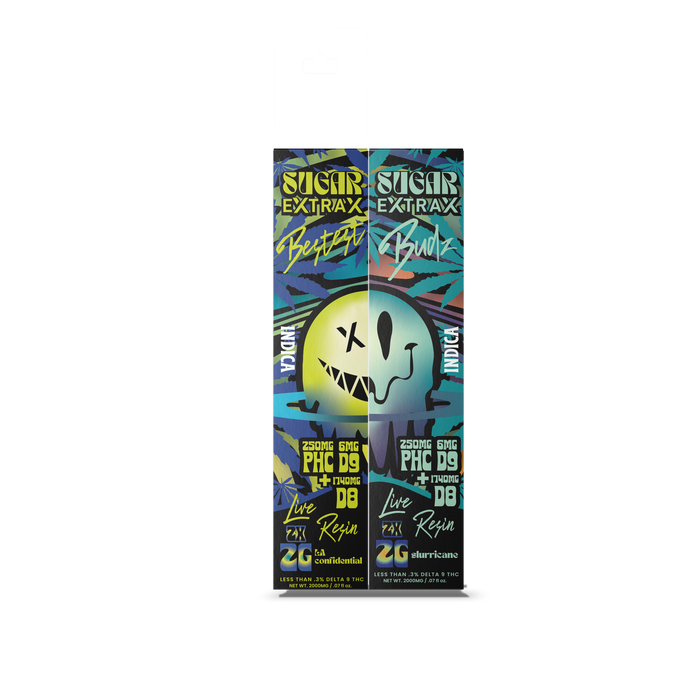 Sugar - Delta 8 - Delta 9 - PHC - Disposable - La Confidential & Slurricane 2PK - 2G
Original price
$39.99
-
Original price
$39.99
Indulge in Sugar Delta 8 Delta 9 PHC Disposable LA Confidential 2PK - 2G, made from the popular Indica strain with a smooth, piney taste & skunky aroma. Psychedelic yet calming on the mind & body, this well-rounded strain hits fast with full-body effects. Convenient, no waste and perfect for on-the-go.
Lab Results - (LA Confidential)
Indulge in a vape experience like no other with Sugar Delta 8 Delta 9 PHC Disposable Slurricane 2PK - 2G! This delicious blend of Live Resin PHC, Delta 9 THC, and Delta 8 creates a unforgettable experience for your taste buds. Each pack comes with 2 devices, providing 2 grams of pure bliss. Don't miss out on the sweetest collaboration in the hemp industry with Bestest Budz!
Lab Results - (Slurricane)
USA Hemp Derived PHC, Delta-8, and Delta-9 THC
Natural and Organic Terpenes
Includes (2) 2 gram disposables (4 grams total)
USB-C Rechargeable (cable not included)