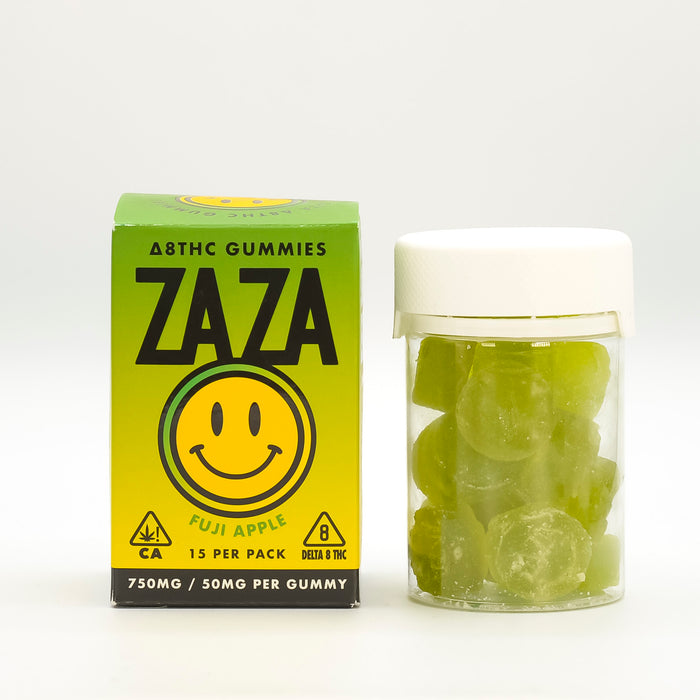 ZAZA - Delta 8 - Edibles - Gummies - Fuji Apple - 750MG
Original price
$19.99
-
Original price
$19.99
It's honestly my favorite kind of apple. Discover the benefits of our brand new ZAZA Delta 8 Edibles Gummies, 'Fuji Apple' flavor. Zaza gummies are infused with delta-8 THC, CBD, CBN, and less than 0.3% delta-9 THC to fully comply with regulations. No artificial flavors are used in any of Zaza's products allowing consumers to experience delta-8 in the most natural way possible. Each jar consists of 15 gummies that incorporate 50mg per gummy, and 750mg of delta 8 per jar. 
They are crafted with mouth-watering fruit-flavored profiles such as Blueberry Burst, Strawberry Fields, and Guava Dragonfruit. This is the perfect product for you if you're a fan of fruits and delta-8 THC! So have a gummy smile, and enjoy. Every collection is tested for potency, accuracy, and safety at a third-party lab before it is distributed to customers. Get yours today!
A tip from us:
We suggest starting with one gummy and waiting 1 hour to adjust for tolerance.
ZAZA Delta 8 Edibles Gummies Fuji Apple Features:
USA Hemp Derived Delta-8 THC
15 Gummies Per Jar
50mg Delta 8 Per Gummy
750mg Delta 8 Per Jar
Additional Ingredients: Sugar, Corn Syrup, Water, Pectin, Citric Acid, Sodium Citrate, Natural Flavoring, and Coloring