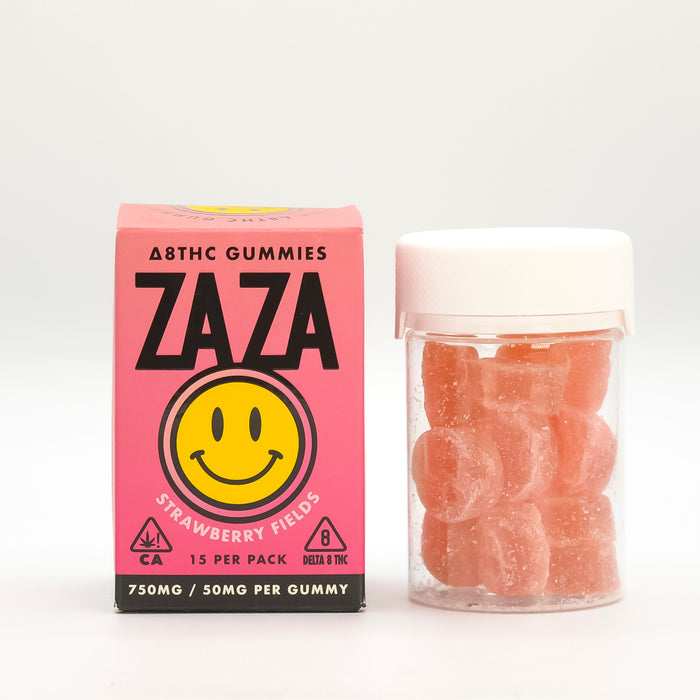 ZAZA - Delta 8 - Edibles - Gummies - Strawberry Fields - 750MG
Original price
$19.99
-
Original price
$19.99
Blast off with the ZAZA Delta-8 Gummies, featuring 15 gummies individually packed with euphoric 50mg of Delta-8 cannabinoids, totaling 750mg per container. Part of the ZAZA edible gummy series with flavors of Blueberry Burst, Fuji Apple, Guava Dragonfruit, Lemon Lychee, Mango Sherbet, and Strawberry Fields. 
ZAZA's Delta 8 Gummies are Made in the USA, Vegan, Non-GMO, and Pesticide Free. ZAZA's gummies can cause your appetite to increase, which is why we recommend getting an extra bag of gummies without any intoxicants. For those conscious about sugar intake, each gummy contains only 2g of sugar! So get your favorite flavor today! 
A tip from us: 
We suggest starting with one gummy and waiting 1 hour to adjust for tolerance.
ZAZA Delta 8 Edibles Gummies Strawberry Fields Features:
USA Hemp Derived Delta-8 THC
15 Gummies Per Jar
50mg of delta 8 cannabinoids per Gummy
750mg of delta 8 cannabinoids per jar
Additional Ingredients: Sugar, Corn Syrup, Water, Pectin, Citric Acid, Sodium Citrate, Natural Flavoring, and Coloring