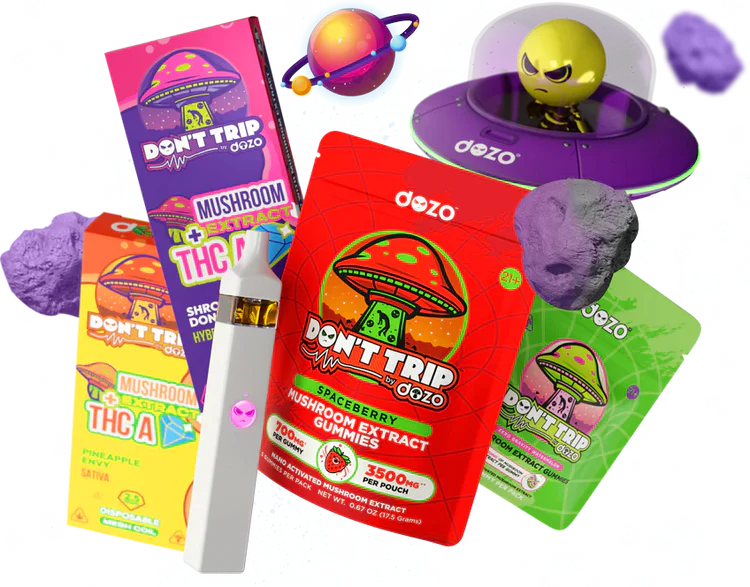 Dozo Delta 8 Review: Quality and Potency
Dozo Delta 8 Review: When it comes to trying new innovative products, there's nothing better than Dozo Delta 8. It is an entirely groundbreaking formulation of Delta 8 THC combined with a variety of naturally derived terpenes and botanicals for enhanced potency. This one-of-a-kind product offers users the incredible experience of fast-acting relief while still delivering intense, long-lasting effects. 
In this Dozo Delta 8 review, you will learn about Dozo Delta 8's unique formula that works together to deliver quality ingredients with maximum efficiency in terms of both body and mind sensations - not to mention beneficial uses as part of its value proposition! As we explore the features and benefits Dozo has created for its customers, we will also dive into real user insights gained from those who have tried this revolutionary product firsthand. Let's begin the Dozo Delta 8 Review!
Dozo Overview
Dozo is a company that provides the highest quality hemp-derived products that are tailored to empower wellness and personal transformation. Their products are meticulously crafted using pure ingredients and exquisite combinations of top-notch cannabinoids. These include Delta 8 THC, Delta 10 THC, THC-A Diamonds, THC-P, live resin CBD, and naturally derived terpenes. 
Rest assured, they offer an unparalleled experience that remains true to their original essence. Dozo provides access to a variety of strains and types—Sativa, Indica, and Hybrid—that deliver exceptional therapeutic effects to the mind and body. 
Dozo educates consumers on the nature of Delta 8, Delta 9, and Delta 10 THC, and the various other cannabinoids present in their products. Their commitment to excellence is evident in every product they create.
Exploring Dozo Delta 8 Products
In the ever-expanding and innovative hemp industry, Dozo stands out as a unique player. With a specialization in Delta 8 live resin products, this company has carved a niche for itself through its flavorful liquid diamond disposable vapes. What sets them apart even further is the powerful combination of Delta 8 live resin, Delta 11, HHC, and THC-P in their products, offering an unparalleled experience.
One of the distinguishing factors of Dozo products is that they contain less than 0.3% Delta 9, which is the psychoactive compound found in traditional cannabis. This makes them legal according to federal law, and perfectly safe for users who don't want to experience the intense high of THC. So if you're looking for an exciting and innovative way to explore the world of hemp, Dozo is definitely worth checking out.
A Dive into Dozo's Unique Flavors
Dozo offers an eclectic mix of flavors that keep consumers coming back for more. 
Russian Cream - provides a soothing and tranquil experience, immersing you in a state of deep relaxation. Its effects go beyond the ordinary, cultivating an atmosphere of serenity that serves as a perfect to a tiring day.
Hubble Bubble (Mushroom Extract Disposables) - Indulge in the delightfully juicy flavor of Hubble Bubble as you exhale voluminous clouds with this disposable!
Don't Trip Mushroom Gummies - These gummies can have a range of positive effects, including enhancing sleep quality, boosting mental clarity, and reducing anxiety. They may contribute to a more balanced lifestyle by helping to manage stress and even influence dietary preferences.
Sour Gorilla Disposable Vape - Sour Gorilla, renowned for its potent and instantaneous effects, will transport your senses to a realm of unbridled wilderness. This experience mirrors an audacious expedition deep into the core of a lush jungle, beneath the towering canopy of ancient trees.
Pineapple Envy - Experience immediate and powerful effects that will take you on a captivating sensory journey. Indulge in the exotic flavor of Pineapple Envy and find yourself immersed in a world of tropical bliss. Each inhale delivers a wave of invigorating Sativa energy, while the enduring effects guarantee a truly unforgettable vaping experience.
Mushy Marshmallow - Prepare yourself for an immediate and powerful experience that will transport you to a realm of heightened sensations. The delectable Mushy Marshmallow flavor will engulf your senses, taking you on a delightful and enchanting journey that strikes the perfect balance between relaxation and stimulation. Be assured, that each vaping session will leave a lasting impression, making it an unforgettable adventure.
Grand Trapper OG (Liquid Diamonds Disposable) - An Indica strain offers a profoundly soothing and tranquilizing experience. It induces a sense of calm and serenity, making it an ideal choice for unwinding after a stressful day or preparing for a peaceful sleep.
Stardust Kush - An indica strain that provides immediate, potent, and enduring effects. It envelops you in a euphoric state of relaxation, making it ideal for a tranquil evening of unwinding.
Other flavors to choose from like Dozo Paranoic X11, Tie-Die Nerdz (Liquid Diamonds Disposable), Unicorn Sprinkles, White Widow, Smurf's Dream, Sour Apple, Shroom Dongers Disposable | Terminator, and Kush Mountain.
Unleashing the Power: Potency and Effects of Dozo Products
Dozo products offer potent and exhilarating experiences with their generous cannabinoid blend. Live Resin Delta 8 stands out for its smooth highs without the associated anxiety or paranoia. Dozo's vape pens ensure quick absorption of cannabinoids, delivering a profound impact and a sky-high experience. 
THC-A Diamonds provide intense psychoactive effects through pure THCA conversion, with diverse terpene profiles enhancing individual experiences. These products go beyond getting high; they allow users to find their perfect vibe and enjoy a variety of potent and enjoyable experiences.
Safety Measures and Compliance 
Dozo prioritizes safety and compliance through rigorous quality testing. Partnering with third-party labs, they ensure federal regulations are met by testing for accurate cannabinoid levels and screening contaminants such as pesticides and heavy metals. Lab reports are available for each product, offering transparency and peace of mind to consumers.
Their commitment to transparency extends to specialized formulations like THC-P HHC, ensuring customers receive safe and trusted products that align with legal requirements. Choosing Dozo means choosing top-notch quality and safety in hemp products.
FAQs in Relation to Dozo Delta 8 Review
What is CBD?
CBD, a non-intoxicating cannabinoid derived from the hemp plant, offers a multitude of benefits for the body. From alleviating anxiety to reducing inflammation, CBD has a remarkable impact on our well-being. It can be taken orally or applied topically. 
What is Delta 8? 
Delta 8 is an analog of cannabidiol (CBD) that produces a high similar to delta-9 THC but with a milder effect. It is found naturally in the hemp plant and can be converted from CBD into its active form. 
What is the Entourage Effect? 
The entourage effect is the idea that components of cannabis, including cannabinoids and terpenes, have a synergistic effect when combined. This means the effects of one component are enhanced by other parts of the plant, creating a more powerful experience than if you were to take just one element. 
Conclusion
Our journey through the Dozo Delta 8 Review has been quite enlightening.
We've explored their unique product range and dived deep into flavors like Mushroom Extract Gummies and Stardust Kush (Liquid Diamonds Disposable).
Quality matters,  and we learned that Dozo prioritizes safety and compliance through rigorous testing. Partnering with third-party labs, they ensure federal regulations are met by screening contaminants such as pesticides and heavy metals. 
Overall, Dozo's lineup offers a strain for every mood, from relaxation to stimulation. Discover their selection and find your perfect adventure companion.
Burning Daily, your trusted hemp e-commerce store invites you on a new adventure. Discover our wide selection of Delta 8 THC products along with THC-P & HHC options today. Experience quality unmatched with our reliable delivery and customer service.