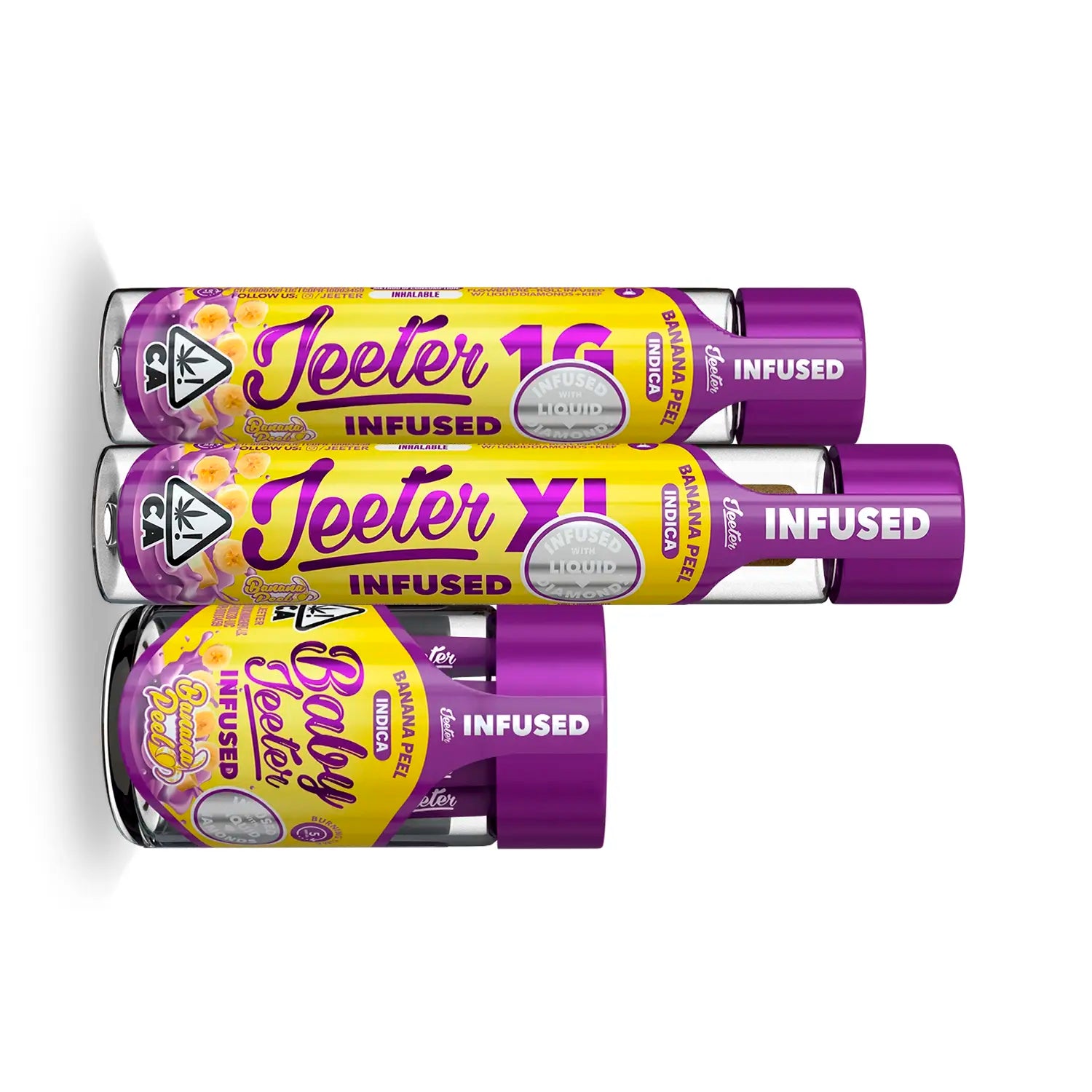 Jeeter Juice Review: The Top Choice in Cannabis Vaping
Jeeter Juice Review: The rise in popularity of Jeeter as a leading cannabis brand is no fluke. But why does this brand garner such rave reviews?
In this post, we'll delve deep into what makes Jeeter Juice stand out. From their variety of strains and unique features to an exploration into the exciting flavorscape they offer - it's all here.
We'll even discuss why disposables might be right up your alley if convenience is key for you. Buckle up because we're about to start our cosmic voyage with this comprehensive Jeeter Juice Review.
A Comprehensive Review of Jeeter Juice
Let's talk about the cannabis industry and one brand that has risen to the top - Jeeter. With its innovative range of products, particularly disposable vape strains, it claims the title as America's #1 cannabis brand.
The Rise of Jeeter as a Leading Cannabis Brand
Jeeter didn't just pop up overnight. It took years of effort and dedication to their product's excellence for Jeeter to reach its current level. Their commitment to innovation.
One example is their recent collaboration with former NBA All-Star Dwyane Wade, which resulted in an exclusive line loved by enthusiasts across the nation.
Exploring the Variety of Strains Offered by Jeeter
Jeeter is a brand that understands the importance of variety when it comes to cannabis. With their impressive range of flower pre-rolls, infused pre-rolls, Jeeter Baby Cannon Live Resin, and Jeeter Juice Carts, there is truly something for everyone. The team at Jeeter is constantly innovating and experimenting with new strains, ensuring that users never get bored with their offerings. 
Whether you're seeking a mellow high or an energizing buzz, Jeeter has a strain that will deliver. With their dedication to quality and their passion for exploring new territories in the cannabis world, Jeeter is a brand that is sure to continue capturing the hearts and minds of cannabis enthusiasts everywhere.
Quality Exploration: The Jeeter Juice Cartridges Experience
When it comes to vape cartridges, one brand stands out from the rest—Jeeter Juice cartridges. Their cartridges are made with top-tier materials and undergo rigorous lab tests to ensure a high-quality vaping experience. In essence, it's not just about creating vape carts—it's about delivering an unparalleled user experience that caters to the needs and desires of users.
Flavors of Jeeter Carts
Apple Fritter 
Blueberry Kush
Blue Zkittlez
Gelato
Honeydew
Horchata
Limoncello
Maui Wowie
Peach Ringz
SFV OG
Strawberry Shortcake
Watermelon Zkittlez 
The Flavor of Pre-rolls
Flower 
Introducing Jeeter Pre-roll - premium indoor flower pre-rolls crafted with the finest cannabis. Experience the pinnacle of quality and satisfaction.
Bacio Strain
Gruntz
OG Kush Strain
Papaya #5
Rainbow Beltz
Rainbow Sherbet
Runtz Strain
White Cherry Gelato
Infused
Introducing the Jeeter pre-roll: Revel in the pinnacle of opulence with our top-tier indoor flower pre-rolls. These artfully assembled joints are imbued with Liquid Diamonds, and carefully coated in kief, creating an unrivaled sensory pleasure. Indulge in the refined mix of various strains and dimensions, thoughtfully created for your delight. Embark on a unique journey with our cookie disposable delta 8, an addition that further enriches the multilayered experience.
Apple Fritter, Banana Kush, Blueberry Kush, Blue Zkittlez, Bubba Gum, Churros, Durban Poison, Fire OG, Grape Ape, Grapefruit Romulan, Honeydew, Horchata, Limoncello, Mai Tai, Maui Wowie, Mojilato, Orange Soda, Peach Ringz, Strawberry Shortcake, Thin Mint Cookies, Tropicana Cookies, and Watermelon Zkittlez.
In essence, each flavor carries not just an aroma or taste but also an experience that leaves lasting impressions.
Exploring Jeeter's Live Resin
Introducing Jeeter Juice Live Resin, a delectable Jeeter juice disposable straw designed to deliver the perfect hit with every use. Crafted using only one ingredient - cannabis, it boasts the purest and most flavorful concentration of cannabinoids and botanical terpenes available. Experience the epitome of quality and taste with Jeeter Juice Live Resin.
Flavors
Cherry Punch, Durran Poison, Forbidden Gelato, Harambe, Ice Cream Cake, Lemon Drop, Limoncello, Mac and Cookies, Papaya #5, Peach Cobbler, Purple Pesos, Raspberry Parfait, Runtz, Sour Strawberry, Super Silver Haze, and Vanilla Frosting Orange Apricot.
The Power Behind Live Resin in Your Juices
Live resin is gaining popularity in the Cannabis Juice industry due to its potent terpene concentrates and enhanced flavor profiles. Live resin is created by flash-freezing fresh cannabis plants at their peak freshness, preserving the cannabinoids and aromatic compounds. Extraction using solvents at low temperatures produces high-quality live resin, which results in smooth hits and even heat distribution. 
The potent terpene concentrates in live resin not only enhance taste but also provide therapeutic benefits during vaping sessions. With its unmatched flavor and heightened effects, live resin elevates the vaping experience and keeps customers coming back for more.
The Convenience Factor Of Using Jeeter Juice Disposable Vapes
Jeeter Juice Disposable vapes are the perfect choice for those seeking a convenient, yet high-quality cannabis experience. With a focus on purity and flavor, Jeeter Juice Disposable vapes contain only fresh frozen flower. This means that the cannabinoids and terpenes are preserved at their optimal level, ensuring a flavorful and enlightening experience with every hit. 
The disposable design provides the perfect hit every time, making it easy to reap the benefits of cannabis without any hassle. Experience the purest and most flavorful cannabinoids and terpenes with Jeeter Juice Disposable vapes.
Quality and Safety of Jeeter
Jeeter Juice Disposable vapes are a true testament to quality and safety. With an unwavering attention to detail, these vapes are crafted using only the finest materials and naturally extracted cannabis oils. The result is a product that not only delivers a premium vaping experience but also meets the highest safety standards. 
Each Jeeter vape is subjected to rigorous third-party lab testing prior to release, ensuring that consumers can confidently enjoy the product without concern. It's no wonder why Jeeter is respected as one of the top vaping brands on the market today.
FAQs in Relation to Jeeter Juice Review
Is Jeeter Juice a legit brand?
Absolutely. Jeeter Juice is a renowned and legitimate cannabis brand, offering high-quality vape products that are popular among enthusiasts.
Where can you buy Jeeter Juice disposable vape?
Jeeter Juice Disposable vapes are available in select dispensaries and online stores. You can also order directly from the Jeeter website for delivery to your preferred location. 
Does Jeeter Juice provide lab-tested products?
Yes, all of Jeeter's products are subject to quality control measures and rigorous lab testing prior to release. This ensures that consumers can confidently enjoy the product without concern. 
What is a liquid diamond from Jeeter?
Liquid Diamond by Jeeter refers to their unique extraction process which preserves maximum cannabinoid potency in their vaping products.
Conclusion
Jeeter Juice Review: After considering all the factors, it is clear that Jeeter Juice is the top choice for cannabis vaping. With its exceptional flavor variety and affordable prices, your vaping experience will be taken to a whole new level.
Whether you are looking for a satisfying nicotine-free thrill or want to give yourself an all-natural high, Jeeter Juice has got you covered! Try out these amazing products today and become part of the Jeeter Juice family. We guarantee that you won't regret it!
Looking for a trustworthy and reputable online retailer of Delta 8, Delta 10, THC-P, and HHC products made from hemp? Discover the ultimate destination for top-notch hemp products at Burning Daily. Explore our exquisite selection of premium offerings, meticulously curated for your satisfaction.