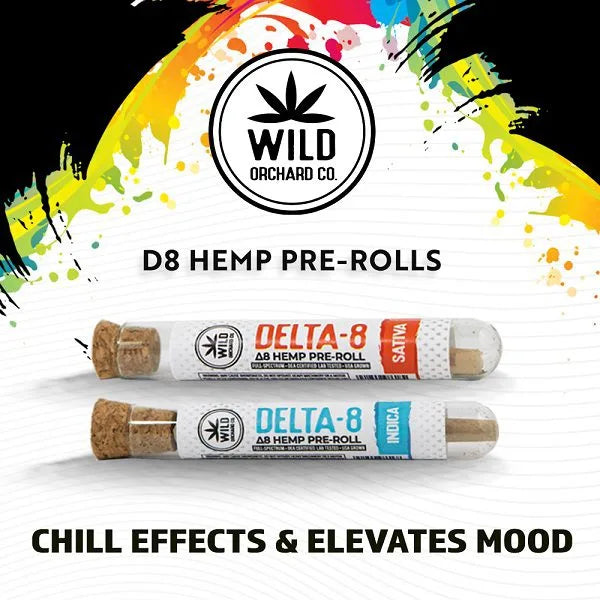 Wild Orchard Delta 8 Review: Exploring Vape Pens & Pre-Rolls
Wild Orchard Co. is gaining popularity among users for their selection of hemp and cannabis products, including vape pens in Indica-dominant strains like Baklava and Birthday Cake, pre-rolls, Chunky Skunk Pen, Delta 9 Peach Rings, and more. This Wild Orchard Hemp review covers these offerings in detail, helping you to understand what sets them apart in the industry so you can make an informed decision when purchasing. Let's get started with this Wild Orchard Delta 8 review.
Wild Orchard Delta 8 Vape Pens
Wild Orchard's full-spectrum vape pens, designed to meet various tastes, offer a great option for hemp and cannabis fans. These vape pens are made in the USA using ISO-certified lab facilities, ensuring high-quality standards while providing third-party lab testing results for your peace of mind.
Indica-dominant strains: Baklava and Birthday Cake Vape Pens
Fans of Indica strains will appreciate Wild Orchard's Baklava and Birthday Cake Vape Pens. The Baklava Vape Pen delivers relaxing effects perfect for unwinding after a long day, while the Birthday Cake Vape Pen provides soothing sensations that can help ease stress and anxiety.
Uplifting experience with Blue Dream Vape Pen
The Blue Dream Vape Pen, infused with delta 8 THC derived from hemp plants, is known for its uplifting effects. This Sativa-leaning hybrid strain is ideal for daytime use as it promotes creativity and focus without causing drowsiness.
Hybrid options like Gelato and Gorilla Glue Vape Pens
Gelato:

 

The Gelato Vape Pen is a balanced hybrid strain that offers a mix of relaxation and euphoria, making it perfect for socializing or enjoying some alone time.
Gorilla Glue:

 

For those seeking deep relaxation coupled with mental stimulation, the Gorilla Glue Vape Pen is an excellent choice.  
Sativa-infused Pineapple Express Vape Pen
With the Pineapple Express Vape Pen, Wild Orchard Delta 8 provides users with an energizing Sativa-dominant strain that is accompanied by tropical flavors to help get your day started or lift you out of an afternoon slump. 
Key Takeaway: Wild Orchard's Delta 8 vape pens provide a range of full-spectrum, lab-tested options to suit every hemp enthusiast - from uplifting Sativa strains and Indica blends. With these premium vapes at your disposal, you can tailor each experience according to your mood.
Pre-Rolls
Wild Orchard Co. offers a unique smoking experience with their pre-rolls, which are made from 100% hemp-derived formulae and blended with botanical and artificial terpenes. Their products offer a range of different flavors to choose from, have a consistent burn without any running or unevenness, and are known to be slightly harsher than regular joints but less harsh than backwoods cigars.
Lemon Pound Cake Pre-Roll
The Wild Orchard's Lemon Pound Cake Pre-Roll is ideal for those who prefer a milder smoking experience, particularly lighter smokers and beginners. The hemp has a natural taste and is complemented by a delightful citrus aroma, providing a smooth and enjoyable smoking experience.
Tips for maximizing enjoyment from these Pre-rolls
Wild Orchard Co.'s Pre-Rolls are an easy and convenient way to enjoy Delta 8, regardless of experience or tolerance level. For the best experience:
It's important to maintain freshness by storing pre-rolls in an air-tight container away from direct sunlight and heat sources.
It's recommended to take slow draws when smoking these pre-rolls and incorporate other methods such as vape pens if too harsh on your throat or lungs. 
Always consume responsibly and within your personal tolerance levels for a safe and enjoyable experience.

 
Key Takeaway: Wild Orchard's pre-rolls provide an exceptional smoking experience with a variety of flavors to choose from. Smokers can take advantage of the smooth, even burn, and citrusy aroma while following proper lighting techniques and pacing themselves for optimal enjoyment.
Considering Personal Preferences & Tolerance Levels
Wild Orchard's Delta 8 products are renowned for their flavorful offerings and strict quality standards, but individuals should always take into account their own preferences and tolerance levels before making any purchase. Before buying these products online or in-store, make sure to verify the legality of Delta 8 products in your area as well.
Factors Affecting Individual User Experiences
Wild Orchard's Delta 8 products can impact users differently depending on various factors such as: 
Tolerance level
Prior experience with cannabis
Sensitivity to terpenes 
Verifying Legality Before Purchase
Before buying any Delta 8 product online or in a store, it is essential to verify the legal status of such items in your area. Refer to the DEA, state government websites, or legal professionals specialized in hemp laws for accurate information.
Key Takeaway: Wild Orchard's Delta 8 products offer a variety of flavors and quality, but it is important to consider individual preferences and tolerance levels when selecting the best product for you. Additionally, verifying local regulations before purchase will help ensure that Delta 8 usage remains legal in your jurisdiction.
Additional Products Offered by Wild Orchard Hemp
If you're looking for new ways to enjoy the benefits of Delta-8 beyond just vaping or smoking pre-roll joints, Wild Orchard has got you covered. They offer a variety of exciting product variants that cater to different preferences and needs. Let's take a look at some of their popular offerings:
Chunky Skunk Pen
It is an excellent and convenient product for users seeking relief from fatigue, stress, or pain.
Delta 9 Peach Rings as an Alternative Product
If edibles are more your style, then don't miss out on trying the delicious Delta 9 Peach Rings. These gummies are made with non-GMO USA-grown hemp tested at third-party ISO-certified labs. 
"Discover the benefits of hemp with Wild Orchard's range of products. From Delta 8 THC pens to Delta 9 Peach Rings, find relief from fatigue, stress & pain. #WildOrchardHemp #Delta8THC #Delta9THC
FAQs in Relation to Wild Orchard Delta 8 Review
What are the effects of Wild Orchard Delta 8?
Wild Orchard Delta 8 is a hemp-derived cannabinoid that offers an uplifting and calming experience with mildly psychoactive effects, including reduced anxiety, inflammation, nausea, and pain relief. Additionally, users may experience improved focus, concentration levels, motivation, and creativity. 
How does Wild Orchard Delta 8 compare to other Delta 8 products?
It is a premium product due to its higher concentration of delta-8, natural hemp extract production process, and lab testing for safety and consistency. Customers can be sure of a dependable experience with each Wild Orchard Delta 8 purchase, as it is tested to ensure purity and the absence of potentially hazardous additives or contaminants.
Is Wild Orchard Delta 8 safe to use?
It is considered safe to use when taken in moderation and according to instructions. It contains trace amounts of THC, making it legally permissible compared to other cannabis-based items, and may offer therapeutic advantages for those seeking relief from pain or anxiety. However, caution should still be exercised with all cannabis-related products.
Conclusion
Wild Orchard Delta 8 offers a selection of products suitable for hemp and cannabis users who want to enjoy the benefits of Delta 8 without any psychoactive effects. Reviews indicate that these products are high quality, effective for relieving anxiety and pain, and affordable. We suggest giving them a try as an alternative cannabinoid consumption option.
Shop Burning Daily for the highest quality Delta 8, Delta 10, THC-O, and HHC products available. Our selection of premium hemp extracts is sure to satisfy your needs.