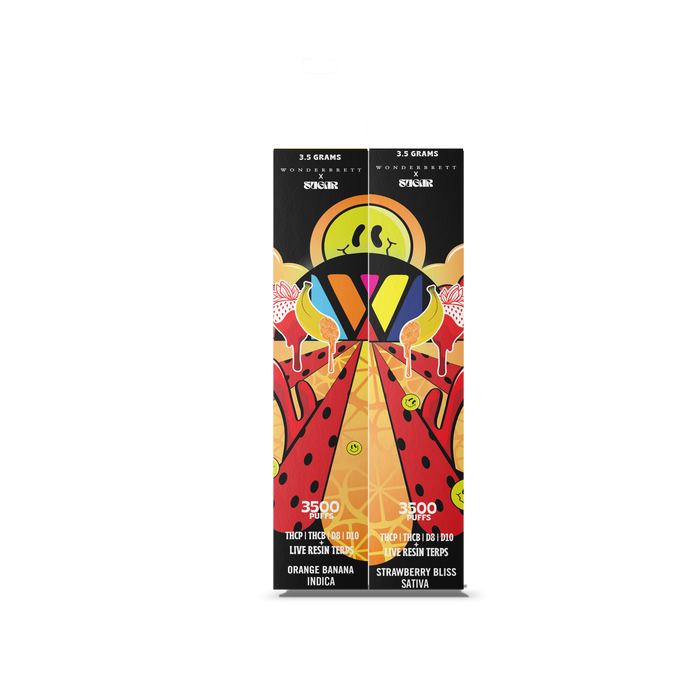 Sugar - Delta 8 - Delta 10 - THCP - THCB - Disposable - Orange Banana & Strawberry Bliss 2PK - 3.5MG
Original price
$54.99
-
Original price
$54.99
With a name like Orange Banana, it's no shock that Sugar's Disposable has a flavor profile to match the fruits in its name! Individuals who grab Orange Banana can expect to taste a certain tart, citrus flavor mixed with an unforgettable banana flavor. Thanks to the Indica properties in this strain, the effects of this strain lean more on the relaxed side and encourage users to kick their feet back. Satisfy those fruity cravings with Sugar's Orange Banana Disposable!
Sugar's Orange Banana Disposable Features: 
3500MG/3.5G Concentration
Strain:

Orange Banana

 - Indica 
Ingredients: Delta 8, Delta 10, THC-P, THC-B, Live Resin
Hemp Plants Grown in the USA
Lab Results - (Orange Banana)
Something about Sugar's Strawberry Bliss makes it hard to put it down! Starting from the first pull, this Sativa strain is exploding with the flavor of recently ripened strawberries and a familiar earthy taste. Because this Strawberry Bliss is a Sativa, users can decide to use this strain when it best suits them and their day. Sugar's Strawberry Bliss Disposable is 3.5 grams of an incredible cannabinoid blend that's exclusive to Sugar. Grab one today and be prepared to head into Bliss!
Sugar's Strawberry Bliss Disposable Features: 
3500MG/3.5G Concentration
Strain: Strawberry Bliss - Sativa
Ingredients: Delta 8, Delta 10, THC-P, THC-B, Live Resin
Hemp Plants Grown in the USA
Lab Results - (Strawberry Bliss)