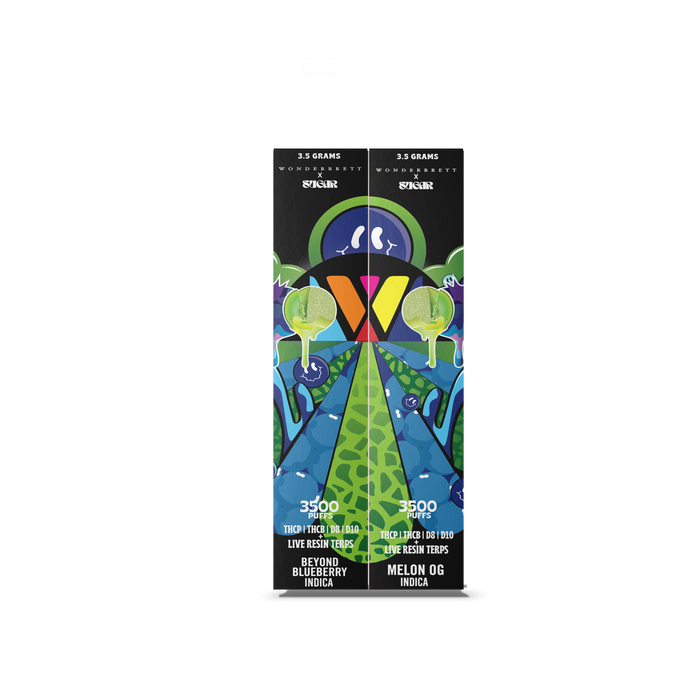 Sugar - Delta 8 - Delta 10 - THCP - THCB - Disposable - Beyond Blueberry & Melon OG 2PK - 3.5MG
Original price
$54.99
-
Original price
$54.99
Look farther than ever before and grab Sugar's 3.5 gram disposable, Beyond Blueberry! Just as this strain's name suggests, the flavor of this Indica is beyond what user's have experienced previously before. Imagine a healthy serving of blueberries, boysenberries, and sweet cream mixed in one, large bowl; that's what Beyond Blueberry's flavor profile is like. From the first pull, a distinct blueberry flavor fills the air and as users exhale, blowing away the berry mix, with it goes the day's stress and worries. Unlock a new level of peace with Sugar's Beyond Blueberry Disposable!
Sugar's Beyond Blueberry Disposable Features: 
3500MG/3.5G Concentration
Strain: Beyond Blueberry - Indica 
Ingredients: Delta 8, Delta 10, THC-P, THC-B, Live Resin
Hemp Plants Grown in the USA
Lab Results - (Beyond Blueberry)
Sugar's collaboration with Wonderbrett has created a one-of-a-kind Indica Disposable, Melon OG! With use of this Indica strain, individuals might notice that they feel more relaxed, calm, and may even experience strong feelings of fatigue. As one would expect, Melon OG has a very fruity flavor profile that's made up of both honeydew and cantaloupe with a few notes of earthy pepper mixed in. Make Melon OG the go-to nighttime strain and feel the effects of this cannabinoid blend tonight!
Sugar's Melon OG Disposable Features: 
3500MG/3.5G Concentration
Strain: Melon OG - Indica
Ingredients: Delta 8, Delta 10, THC-P, THC-B, Live Resin
Hemp Plants Grown in the USA
Lab Results - (Melon OG)